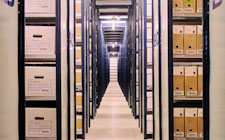 Secure Document Storage Facilities: Security is of major importance when considering an off-site archive facility!
That is why DataSpace España facilities are purpose built and are fully compliant with BS5454 regulations and have the latest security features including 24 hour, 365 days a year fire and theft security monitoring and web based CCTV surveillance.
Document Storage and Tracking: An advanced bar code tracking system is in place to instantly check the status of an item registered to the tracking system and searches for access or retrieval can be performed within seconds of an authorised request.
Whatever Your Requirement: Many of the existing clients who appreciate the advantages of the DataSpace system have initially started with relatively small archive quantities that have grown over a number of years, other clients such as Government Bodies, Local Authorities, NHS Trusts and Private Hospitals have entered tens of thousands of archives into the tracking system with equally satisfying results. Confidential, efficient and secure document storage is only a small part of DataSpace España's Paperbased Management System.
Delivery and Pickup Vehicles: DataSpace España and DataSpace UK has its' own fleet of dedicated retrieval vehicles and 'normal' retrievals are performed the same day. Clients who have offices in the UK are serviced though the DataSpace 'Alliance' network ensuring the same high levels of dedication and service.
Rapid Document Access: Clients requiring a more rapid access to information have the ability to store and manage file archive material in the conventional manner and then have specific details required scanned and emailed back to them within an agreed time scale.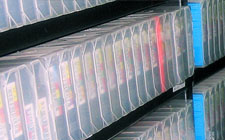 DataSpace España have developed a range of offsite backup and media vaulting services that ensure the safe protection of a clients' vital backup from the time they pop out of the on-site backup drive through to the time when the tape has passed its' active life threshold.
Working closely with a clients' IT managers, DataSpace España can offer advice and assistance on all aspects of backup vaulting whether using stand alone tape cycles or GFS (Grandfather-Father-Son) or Tower of Hanoi cycles DataSpace España media managers have the knowledge and experience to guide clients through an effective backup routine to ensure full data recovery in the event of a disaster or data loss.
Once registered to the advanced bar code tracking system all tapes/discs are monitored for movement and when delivered back to a client as part of cycle they are registered to an authorised user of the system. When a backup cycle encompasses one or more tapes they can be registered as a set of information and will always be retrieved as a complete set of information rather than individual tapes – an essential feature for larger clients operating SAP systems with SOX compliance issue to be upheld. (Sarbanes Oxley)
In the event of a system error or disaster, DataSpace España vehicles offer 1-hour Emergency retrieval of a 'clean' data set, these services are offered 24-hours a day and 364 days a year and ensure your data is back on-site with minimum disruption to working procedures.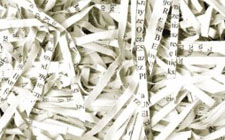 Confidential Destruction Services
DataSpace España is principally concerned with the active management and control of your current and live data, be it in paper based or electronic format. To compliment the key paper shredding services for advanced tracking, volume scanning and retrieval of a clients' paperwork – DataSpace España can become fully responsible for your archives through legal retention to final destruction.
Items DataSpace España are capable of final destruction include; Paperwork/documentation : Audio/VHS tapes : CD/DVD media : Computer hard disks : Staff uniforms : X-Rays : Products and/or samples.
Any Material due for destruction, that clients analyse to have met their legal obligation to maintain, are passed through a highly secure and confidential cross-cut shredding operation ensuring the total loss of the data, paper, floppy discs, CD/DVD's or video tapes.
DataSpace España destruction procedures have also assisted existing clients with the confidential disposal of unwanted corporate uniforms. Comprehensive on-site destruction processes are also offered ensuring that confidential paperwork that is generated within the office is securely shredded and DataSpace España has a wide range of sacks, waste bins and receptacles for this purpose.
Once destruction procedures have been performed, clients' are issued with a 'Certificate of Destruction' to conform compliance to the latest Data Protection regulations. All destroyed information is then forwarded to a recycling plant registered by the Environment Agency, where the waste is re-entered into the supply chain.
DataSpace UK is actively involved with the 'plant a tree' project in Sweden, whereby for every tonne of paperwork destroyed a donation is made towards the foundation that replant trees to replenish the Earths resources.
Computer and IT Disposal: To compliment the need for confidential computer hard disks or PC memory to be destroyed when the IT equipment is replaced, DataSpace España have developed an IT disposal service for business customers.
Rather than the IT department having the responsibility to erase or wipe a PC memory and then dispose of the hardware in compliance with the latest WEE directive – DataSpace España can provide a total solution ensuring compliance obligations are met and high levels of commercial and personal data protection are maintained.