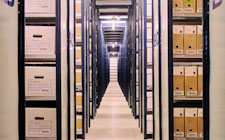 Secure Document Storage Facilities: Security is of major importance when considering an off-site archive facility!
That is why DataSpace España facilities are purpose built and are fully compliant with BS5454 regulations and have the latest security features including 24 hour, 365 days a year fire and theft security monitoring and web based CCTV surveillance.
Document Storage and Tracking: An advanced bar code tracking system is in place to instantly check the status of an item registered to the tracking system and searches for access or retrieval can be performed within seconds of an authorised request.
Whatever Your Requirement: Many of the existing clients who appreciate the advantages of the DataSpace system have initially started with relatively small archive quantities that have grown over a number of years, other clients such as Government Bodies, Local Authorities, NHS Trusts and Private Hospitals have entered tens of thousands of archives into the tracking system with equally satisfying results. Confidential, efficient and secure document storage is only a small part of DataSpace España's Paperbased Management System.
Delivery and Pickup Vehicles: DataSpace España and DataSpace UK has its' own fleet of dedicated retrieval vehicles and 'normal' retrievals are performed the same day. Clients who have offices in the UK are serviced though the DataSpace 'Alliance' network ensuring the same high levels of dedication and service.
Rapid Document Access: Clients requiring a more rapid access to information have the ability to store and manage file archive material in the conventional manner and then have specific details required scanned and emailed back to them within an agreed time scale.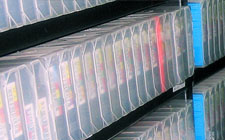 DataSpace España have developed a range of offsite backup and media vaulting services that ensure the safe protection of a clients' vital backup from the time they pop out of the on-site backup drive through to the time when the tape has passed its' active life threshold.
Working closely with a clients' IT managers, DataSpace España can offer advice and assistance on all aspects of backup vaulting whether using stand alone tape cycles or GFS (Grandfather-Father-Son) or Tower of Hanoi cycles DataSpace España media managers have the knowledge and experience to guide clients through an effective backup routine to ensure full data recovery in the event of a disaster or data loss.
Once registered to the advanced bar code tracking system all tapes/discs are monitored for movement and when delivered back to a client as part of cycle they are registered to an authorised user of the system. When a backup cycle encompasses one or more tapes they can be registered as a set of information and will always be retrieved as a complete set of information rather than individual tapes – an essential feature for larger clients operating SAP systems with SOX compliance issue to be upheld. (Sarbanes Oxley)
In the event of a system error or disaster, DataSpace España vehicles offer 1-hour Emergency retrieval of a 'clean' data set, these services are offered 24-hours a day and 364 days a year and ensure your data is back on-site with minimum disruption to working procedures.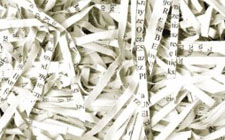 Confidential Destruction Services
DataSpace España is principally concerned with the active management and control of your current and live data, be it in paper based or electronic format. To compliment the key paper shredding services for advanced tracking, volume scanning and retrieval of a clients' paperwork – DataSpace España can become fully responsible for your archives through legal retention to final destruction.
Items DataSpace España are capable of final destruction include; Paperwork/documentation : Audio/VHS tapes : CD/DVD media : Computer hard disks : Staff uniforms : X-Rays : Products and/or samples.
Any Material due for destruction, that clients analyse to have met their legal obligation to maintain, are passed through a highly secure and confidential cross-cut shredding operation ensuring the total loss of the data, paper, floppy discs, CD/DVD's or video tapes.
DataSpace España destruction procedures have also assisted existing clients with the confidential disposal of unwanted corporate uniforms. Comprehensive on-site destruction processes are also offered ensuring that confidential paperwork that is generated within the office is securely shredded and DataSpace España has a wide range of sacks, waste bins and receptacles for this purpose.
Once destruction procedures have been performed, clients' are issued with a 'Certificate of Destruction' to conform compliance to the latest Data Protection regulations. All destroyed information is then forwarded to a recycling plant registered by the Environment Agency, where the waste is re-entered into the supply chain.
DataSpace UK is actively involved with the 'plant a tree' project in Sweden, whereby for every tonne of paperwork destroyed a donation is made towards the foundation that replant trees to replenish the Earths resources.
Computer and IT Disposal: To compliment the need for confidential computer hard disks or PC memory to be destroyed when the IT equipment is replaced, DataSpace España have developed an IT disposal service for business customers.
Rather than the IT department having the responsibility to erase or wipe a PC memory and then dispose of the hardware in compliance with the latest WEE directive – DataSpace España can provide a total solution ensuring compliance obligations are met and high levels of commercial and personal data protection are maintained.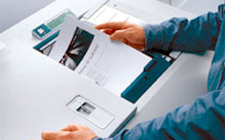 Paper Scanning: In addition to the physical storage options that DataSpace UK provide the company has heavily invested in technology to give the clients choice when considering the scanning of documents.
DataSpace UK document Scanning services offer clients' a range of flexible, modular solutions employing the latest technology from our partners including Canon, ThereFore Electronic Document Management systems.
Online documents are held within DataSpace UK's own certified DataCentre. The facility is compliant to BS27001. The data centre was designed with a blank sheet and all servers are virtualised, replication of the data is ensured by SAN to SAN technology and DataSpace UK have also commissioned both on and offsite Disaster Recovery centres ensuring that all data is both secure safe and compliant for when the client needs further access.
Book Scanning: Organisations may be faced with scanning documents that are in bound formats i.e. Wills, Deeds, or books. These bound formats often become a challenge if they are to be required to be digitised for presentation or access over a client user community.
DataSpace UK has met the challenge by offering a book scanning service. The technology uses the latest digital capture technology from book2net scanners. The scanners allow the capture of all images to be processed into a variety of different formats including colour black and white tiff, jpeg, PDF etc.
DataSpace UK staff are CRB accredited and will handle all data with the upmost of care. DataSpace would recommend that digital access to the documents can be provided securely online via the FileLive online solution.
FileLive offers secure IP specific internet access over an encrypted SSL socket. Alternatively all images may be transferred onto a secure portable media device for uploading into a client's digital environment.
MicroFiche and MicroFilm Services: Many organisations are faced with Legacy microfilm and Micro fiche databases. The information contained on the film may be costly to access both in terms of trained labour as indexing on the images is often limited. Additionally the equipment to access the images is costly to continually support.
DataSpace UK operate a specialist Microfiche and Micro film scanning services. The scanning of the microfilm or fiche can be done in bulk or upon request (Scan on Demand) Rather than scan complete libraries DataSpace UK offer the service to host the physical library at our BS27001 compliant data centre. DataSpace UK allow the clients to securely logon via a secure IP specific SSL connection to our hosted service. The Filelive system allows multiple users with the correct access rights to enable searching the requested images. Each image can be viewed annotated or amended with full version control. Additionally the digitised images may be downloaded as a pdf image.
FileLive for Scanning: FileLive is unique web based document management software that allows Records managers to manage; track and view both current and legacy document Databases in various formats.
This system allows clients remote access of the hosted documents library. Users are able to logon to an IP specific secure portal. Each user is assigned permissions to restrict departmental or document access. The users are presented an easy to use system where the document can then be searched and then filtered on to access the required data.
The FileLive document management system operates over a secure 256bit encrypted SSL connection connected to DataSpace's secure data centres operating to BS27001 compliancy.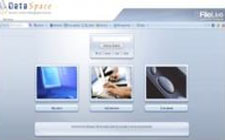 FileLive: Document Management Software
FileLive is unique web based document management software that allows Records managers to manage, track and view both current and legacy document Databases in various formats.
Record managers are able to control the user community within FileLive and issue secure individual logins to the system.
The FileLive document management system operates over a secure 256bit encrypted SSL connection.
The system has multiple end user advantages including the ability to:
Track boxes or files on or off site
Add new files or boxes (permission selectable)
Edit files and boxes (permission selectable)
Request a file to be scanned only when required
Link to the scanned image of the file and download as tiff or PDF
Host scanned images in a secure BIP 008 compliant image library environment
Upload supporting file documentation about files or boxes stored off site
Append to Images scanned from the user's own scanner
Process the request for the box or file on line for physical delivery
Produce activity based reports
Sharepoint connector
Set user access rights
IP specific usage
FileLive management features include powerful reporting functionalities on each individual account.

FileLive Online Management Features
Users can be granted management permission to allow access to additional reporting and control features within the FileLive document management system.
These enhanced system features allow a manager to have total control of the online storage account.
The manager will be able to produce reports on the following:
Number of files/boxes stored
Volume of scanned images performed
Volume of data hosted online
Number of files retrieved
Number of files returned
Number of files destroyed
Document review dates
Requestor activity
View support team information
View all signed delivery/collection work orders
Administer users and permissions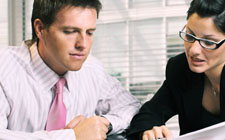 EDRM: Electronic Document Management Systems
Large organisations have difficulty in the control and flow of internal documents. Often the Windows environment is used. Although familiar it often creates duplication of documents and allows end users to design their own index structures.
Understanding these issues DataSpace UK are able to supply install or provide a completely hosted solution for the Canon UK enterprise document management system known as Therefore™.
The Therefore™ document management system can speed up and stream line business processes. Electronic document processing means less print and lower output costs. As the system drives internal efficiencies resources may be reallocated from administrative tasks to the core business
The Therefore™ EDRM system is able to capture documents from the desktop, scanning devices including Multi function print devices or directly from the desktop incorporating email.
Therefore™ EDRM can be integrated with SharePoint SAP and Microsoft Exchange to safely store all emails.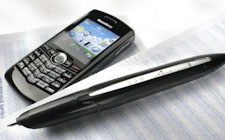 DataSpace UK Digital Pen Technology is a new, fast and convenient way of performing electronic data capture in the field and instantly relaying this information to your head office allowing you to automate form-based information capture removing the usual issues associated with field-based information gathering.
DataSpace España Digital Pen Technology will:
Provide instant access to your field-based form information
Remove the need to retain and scan any original forms
Remove data entry requirements to convert form information
Allow this information to be shared globally across your organisation
Pen and paper remain the simplest and most convenient way for mobile workers to capture information. Many organisations have tried expensive tablet PC and PDA mobile working solutions but in many cases these have fallen short due to difficulties encountered during the deployment and use of these.
DataSpace UK Digital Pen Technology gives you the best of both worlds.
How it Works: The DataSpace UK Digital Pen uses a digital pen and specific paper forms for electronic data capture as the user writes. Despite looking like a conventional pen it also includes a tiny camera.
The paper forms used by the Digital Pen include a dot pattern that is almost invisible to the naked eye. This dot pattern is read by the camera as the user writes and logs the exact position of the writing on the form in real-time.
After completion of the form, the user would tick a small check box and the data would then be automatically transferred to head office using the users' mobile phone. It is easy to use, incredibly portable and a very cost-effective form of electronic data capture.
The delivered form output is of the highest quality and appears as though the original paper-form had been scanned using high-quality document scanning services.
In office scenarios the Digital Pen would communicate the information stored on the pen via a USB cradle attached to a computer. In a field-based scenario the solution would send this information via the users Bluetooth ™ mobile phone.
The DataSpace UK Digital Pen provides real-time access to information captured in the field and eradicates the need to scan paper-based forms in order to store them online. It also eradicates the need for any business to collate and type in form-based information delivering further cost-reductions.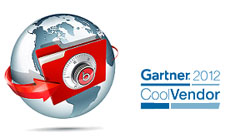 The Brainloop Secure Dataroom Service
DataSpace UK provides users with a secure online work space which enables users to access and share their highly confidential documents with colleagues, clients and partners both internally and externally. Brainloop is a cloud based SaaS solution which allows users to gain 24/7 access to critical data from anywhere in the world.
The demand for highly secure IT solution is soaring; in our modern day technological world, communicating and sharing documentation is easy, but at what cost to your company? Cyber-attacks and Data-breaches are costing economies millions of pounds and are becoming an ever increasing burden to both the public and private sector organisations.
Brainloop have recognised that confidential documents exist throughout a whole enterprise; and consequently have developed a 'Best-in-Class' solution that is extremely flexible and can be used company wide.
Document Compliance Management: Most people see security, compliance and collaboration as a tradeoff. You can lock Information down behind the firewall with strict policies and centralized control, but without collaboration.
Or you can use a virtual data room or a collaboration portal, but then you lose security and the ability to enforce corporate confidentiality policies.
Brainloop uses Document Compliance Management (DCM) to bring collaboration, security and compliance all together in an online collaboration environment that's as safe as within the perimeter.
Policies are applied automatically, so you can focus on your goals – instead of being tied down by processes.
Typical user cases for Brainloop data room include
Boardroom – Board communications
Legal – Contract Reviews
M&A – Due diligence
HR – Salaries / individual personal data
Financial – Annual reports / Contract Management / Internal Audits
Audits – External / Corporate investigations
R&D – Intellectual Property
Security Features: Encrypted Data – High security 256-bit AES encryption provides effective protection for all documents. All data transmitted between the client and server, are protected with 128-bit SSL encryption.
Two-Factor Login Authentication – Password and one-time PIN protected. A one-time PIN is sent to the authorised user mobile phone for additional protection.
Secure, Traceable Delivery – Documents are not sent out as attachments. Instead, the recipient receives an email containing a link to the document in the Brainloop Dataroom.
Rights Management Technologies – Document protection right through to the user's desktop as special security policies can be defined for documents within the data room. This determines whether a document can be printed, or forwarded to other users.
User Group Permissions – All members invited into the secure Brainloop Data room are assigned a set of permissions which determine their complete access rights, these permissions can be tailored to each user's requirements.
Tamper-Proof Audit Trail – All actions are fully recorded with date & time stamps so that there is total clarity over all documents and users within the application. These actions include configuration changes as well as document access, editing and the addition of new documents to a data room.
Operator Shielding – Confidential documents are protected from access by internal or external IT administrators due to the complete separation of application and systems administration duties, and to the integrated two-person approval processes for all security-related administration functions.
Your Benefits at a Glance
Consistent protection of confidential documents – right through to the user's desktop
Complete yet flexible protection of confidential email content
Highest levels of security with strong authentication and encryption of data transmission and storage
Operator shielding – administrators and IT service providers cannot access data room content
Traceability for all data room communications
Easy implementation of user security permissions
Fulfils compliance requirements with integrated tamper-proof audit trail
Integrated document management
Intuitive and user-friendly
Availability any time and from any location with a web browser also available on mobile devices with small screens
Additional Features: Brainloop Mobile for iPad
With Brainloop Mobile for iPad, you can view and read confidential documents from your Brainloop Secure Dataroom using your iPad, as long as the data room has been configured to allow access from mobile devices. With the appropriate document access permissions, you can download documents from the data room onto your iPad, read them offline, and even add comments and bookmarks to the local copy.
Brainloop Mobile ensures that your confidential documents stay confidential, as no other application on the iPad is able to access them. Additional protection for the documents on your iPad is provided by an access code to be entered whenever you start the program.
You can also use your iPad to send documents easily and securely via the data room. If the data room requires you to enter the one-time PIN number texted to your cell phone, you can only access the data room once you have entered the correct number.